Try This
Hoisin Chicken Lettuce Wraps
Prep time: 1 hr | Cook time: 15 to 20 minutes | Serves: 6-8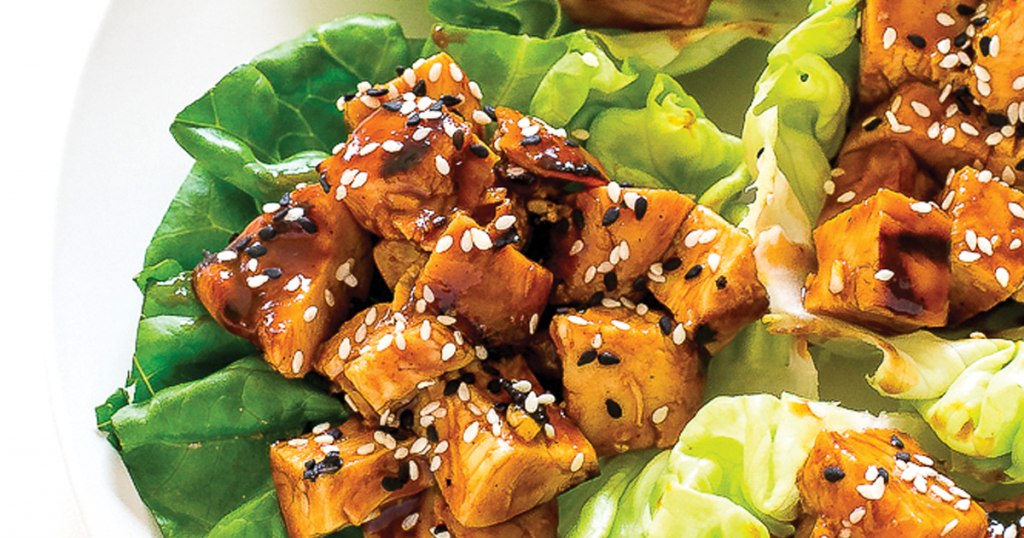 Ingredients
2 pounds chicken breast
1 head of bib or boston lettuce
Sesame seeds for garnish if desired
For Sauce
½ cup hoisin sauce
2 tablespoons rice vinegar
1 teaspoon ginger, minced
4 cloves garlic, minced
3 tablespoons low sodium soy sauce
2 teaspoons sriracha
INSTRUCTIONS:
Please note: Prep time does not include marinating time
In a small bowl, mix together the sauce ingredients.
Pour half of the sauce into a large Ziploc bag. Reserve the rest of the sauce.
Add the chicken breasts to the Ziploc bag and shake to coat.
Marinate in the refrigerator for at least an hour or overnight.
When you are ready to eat, preheat your grill to 400 degrees and grease with nonstick cooking spray. Remove chicken from the marinade and grill until fully cooked, about 4-6 minutes on each side (depending on the thickness of your chicken)
Remove the chicken from the grill and let it cool for a couple of minutes before slicing into it.
While chicken is resting, heat the remaining sauce in a medium saucepan.
Cube up the grilled chicken and toss in the remaining sauce.
Serve immediately over bib lettuce with sesame seeds, if desired.
Enjoy!
Reprint: This recipe first appeared on ChefSavy.com, written by Kelley Simmons. To read more visit https://bit.ly/3DLSC2M.